LED bulbs
are becoming more and more accessible to everyone. But it is very difficult to know which bulb suits you. On the internet you will find many shopping guides dedicated to LED bulbs but very often, once the reading is over, we didn't learn much.
So we chose to go to get to the basics. Rather than explain the technical operation, we will focus on putting it into practice.
The choice of a LED bulb is based on these simple criterias: angle, color, power.


Check the base !
Angle : it is an important piece of information that you must take into account when making your choice.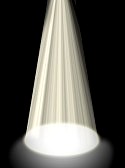 You need a limited lighting angle? Then choose a bulb diffusing light between 30 and 45°. Several cases can determine this choice, the first and most common is the need to target particular areas as some poorly lit areas of the kitchen, a table in the living room ... but also when the ceiling is very high (4-5 meters) and setting a wide-angle bulb would not be effective enough. In this case, it becomes very interesting to set a bulb at a restricted angle and it is most often with the GU10 that we find this type of angle. Do not select this type of bulb to install in a false ceiling for example. You will get a poor output with a light that will not diffuse enough and will make light spots on the ground. Also avoid orienting this type of bulb at eye level. The angle being concentrated, the power is increased and so is the glare-effect.

You need a wide-angle? Then go for a bulb diffusing between 10and 280°.It is the case for a majority of GU10, E14, E27, MR16 bulbs... The wide-angled LED Bulbs will cover 80% of the needs, ideal for replacing bulbs in a false ceiling but also in a chandelier, a bedside lamp ... Basically, for any room in the house. Especially for the E14 and E27 bulb, the ideal solution is to choose an angle from 200°. The advantages of wide-angle LED bulbs are multiple: they allow the lighting of large surfaces in a homogeneous way, the glare is very limited (even more limited than with halogen bulbs) (Careful! It only goes for our frosted glass or plexiglas bulbs. It helps diffusions the light perfectly and is easy on the eye - no direct exposure to the light). Bulbs with visible LEDs should be avoided. It does not affect the vision, but it can create a certain discomfort for the eyes.
Color : according to everyone tastes, but let's get into the subject...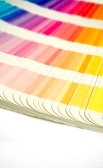 Color choice is capital! We are not used to choosing the color of conventionnal bulbs. But with LEDS bulbs, it becomes possible and mandatory. To choose the color of your led bulb, we must first go through the different types of colors. You will find a lot of color names on many different websites but the most important is the value in °K. It is the safest indication.
2800-3200 ° K: Warm White color. You want to keep the same lighting than with your halogen bulb? Then that's the color you need. Especially indicated for a rustic interior, dark furniture for a living room, dining room, library, entrance. With this color, you do not change your habits, only your power consumption.
4000-4500°K : Daylight color. This is the most appreciated color. A nice mix between warm and cool white, giving your interior a modern and natural lighting. Ideal for every rooms.
6000-6500°K : Cool White. mostly used for decoration purposes. You should avoid this in living rooms, its use being rather uncomfortable. It is mostly indicated for outdoor lighting or design interiors.
10000-12000°K : Cold White Color. We no longer offer this option because it's almost useless. This color is a sort of blue/white color uncomfortable in any situation.
Power : you should not neglect this very important feature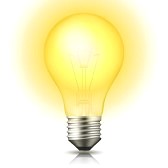 Let's put an end to this preconceived idea! No, the value in Watt does not determine the power of the bulb. This was accurate back in 2007, when we were working with a single generation of LEDs, this is no longer the case. Why ? Because with the current technical evolutions, the lumens / watt output evolves every month ! in 2007, a 5W bulb could diffuse 160 lumens. Today, the same 5W bulb can diffuse over 400 Lumens. So what ? If technology is changing, why specify that 5W = 400 lumens? Well simple because of the blooming competition that offers incredible prices on 5W bulbs at half price by simply specifying power equivalences and remaining unclear or distorting the value in lumens. So when choosing your bulb, it is the value in lumens that you must take into account. Although on our website, we indicate the watt power equivalence.


To conclude, choosing a LED light bulb is relatively simple and after reading this guide, you are now able to make your choice. We are obviously at your disposal by email contact@planeteleds.fr or by phone at +331 85 51 02 16 if you have any questions.