HOW TO CONNECT MY LED H1 BULBS?
Many cars and motorcycles require the installation of H1 bulbs for low and/or high beam lights. And many of us are constantly looking to improve their car's lighting by purchasing H1 LED bulbs or H1 LED kits. The difficulty is that the original bulb is very different from the LED bulb H1! Many people ask us how to connect and install an H1 LED bulb. So we ill dedicate this month's blog post about this topic! Here's a few tips ...
H1 LED Bulbs : why change my original H1 bulbs ?
Do you lack visibility at night while driving? Your bulbs do not light well enough or far enough and you often avoid danger at the last moment? No doubt that you have to switch to LED technology on your headlights! These 100% compatible H1 LED bulbs with your car and motorcycle headlights are ideal for ensuring visibility, safety and comfort when driving, because safety must be your priority. It's the golden rule : see and be seen!
H1 LED bulbs allow you to diffuse a white and powerful light, increasing your field of vision and providing a constant and effective lighting.
In addition to being ultra-efficient, these bulbs can ensure up to 30,000 hours of operation allowing you to keep your bulbs for a long time.
Installation of my new H1 LED bulbs
You are convinced! You want to switch to LED lighting for your car and motorcycle headlights but the installation seems more complicated than expected ....
Unlike an H7 LED bulb for example, where the connector is strictly identical to your original bulb and therefore allows a fast and easy connection, the H1 LED bulb is physically quite different from a halogen H1 bulb.
Indeed, a H1 halogen bulb has a sort of metal ring at the base of the bulb which constitutes the (-) and a small metal rod out of this ring which is the (+). So you just need to install the bulb into the headlight, close the hook on the bulb and connect the (+) on the pod that arrives at the healight entry.

An H1 LED bulb needs to be cooled by a fan or passive cooling system and therefore needs to be a little bigger. It is impossible to install the same connection system as on the original. They are therefore most often made of two wires (-) and (+).
For the red wire (+), this is easy: just come plug this wire into the plug that comes to the headlight. On the other hand, for the black wire (-), several solutions are possible:
1. You must unplug a small plug that is inside the optics and connect the black wire of your H1 LED bulb instead.
2. Your original connection allows the contact of your original bulb of (+) and (-) at the same time and in this case you will need the use of a special connector.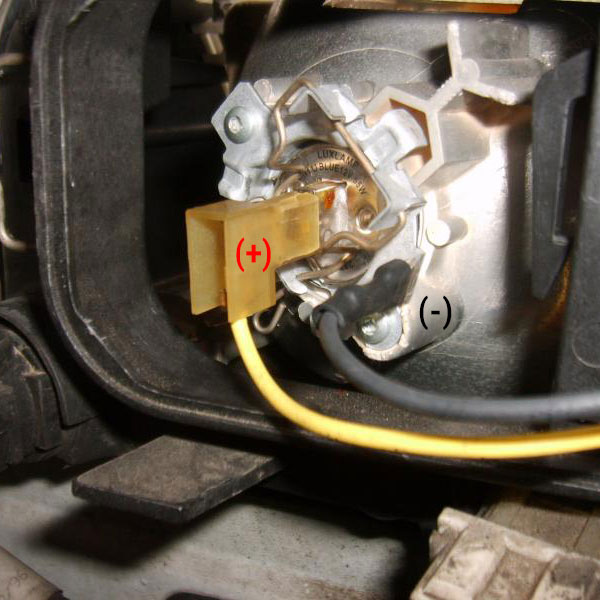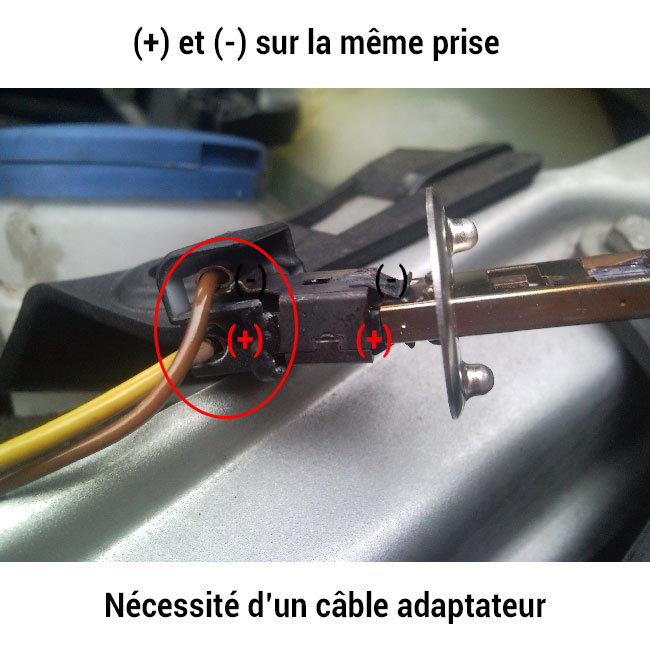 Regarding the installation itself, it does not change from any LED bulb, you must remove the collar that is around your bulb and place it in front of the headlight, close the hook on it, then clip your new H1 auto bulb from the back.
And there you go ! Your installation is complete.
Our range of H1 LED Bulbs
1. LED Bulbs Kit H1 4600Lm First Plug&Play 30W
This H1 LED Conversion Kit improves your lighting by making it whiter and more powerful. 4600 Lumens. Ventilated cooling system, allowing a more efficient lighting.
| | |
| --- | --- |
| Color | White |
| Color temperature | 6000°K |
| Luminous output | 4600 Lumens |
| Consumption | 30W |
| Type of LED | LED COB |
| Supply voltage | 10 - 30V |
| Beam angle | 360° |
| CANBUS system | No |
| Lifespan | 30 000h |
| Warranty | 5 years |
2. H1 LED Bulbs High Power OneStep
These H1 LED bulbs OneStep High Power are easy to install and replace your low/high beam lights or fog lights. Compact and powerful, they are the ideal choice to replace your halogen bulbs when there is a small space into headlights.

| | |
| --- | --- |
| Color | White |
| Color temperature | 6000°K |
| Luminous output | 3600 Lumens |
| Consumption | 16W |
| Type of LED | LED SMD |
| Supply voltage | 6 - 32V |
| Beam angle | 360° |
| CANBUS system | No |
| Lifespan | 30 000h |
| Warranty | 2 years |